OZUNA AND ANUEL'S "LOS DIOSES" PUSHES THE STANDARDS OF REGGAETON TO NEW HEIGHTS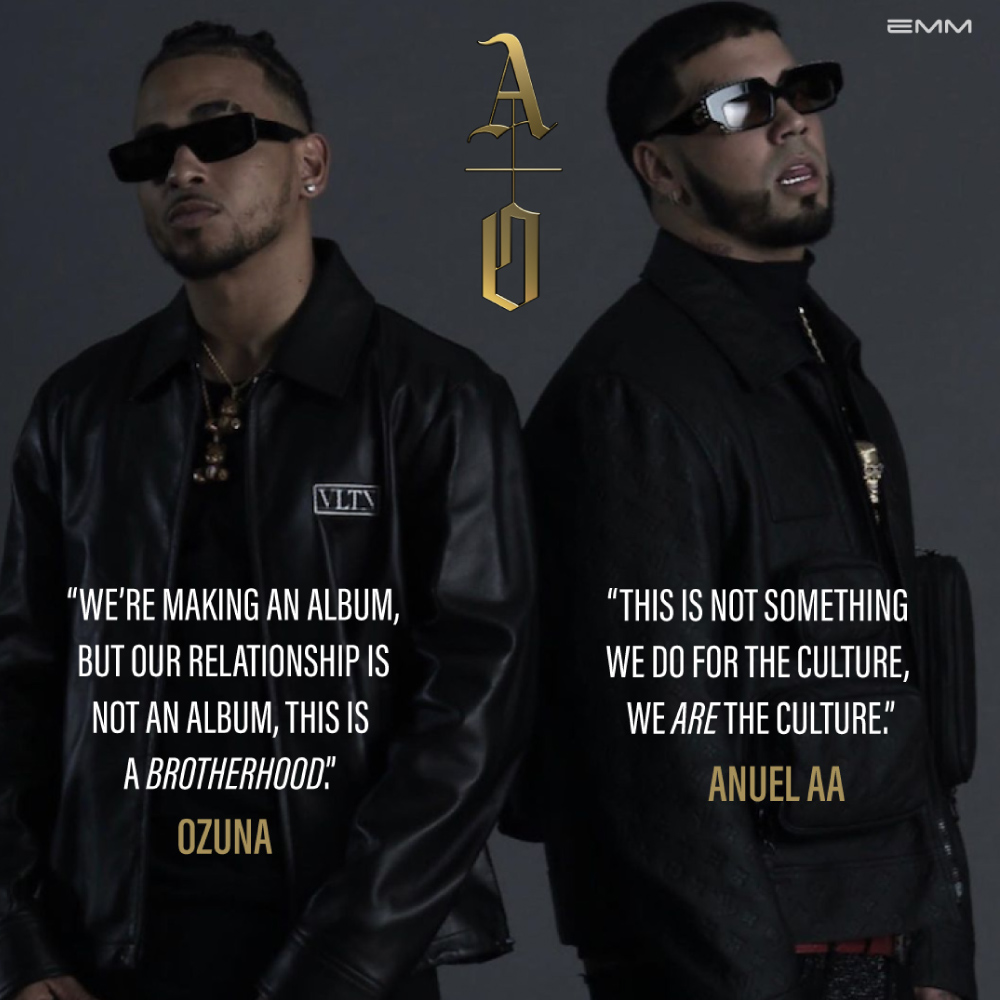 Pushing the standards of reggaeton music and expanding it to new heights, Ozuna and Anuel's joint album "Los Dioses" has finally released. An epic merge with "bad boy" Anuel and "good guy" Ozuna, this creative project brings together two leaders of the new reggaeton generation celebrating their passion for authentic music and a long standing "brotherhood". Fusing their voices with this powerful combination, "Los Dioses" elevates the traditional reggaeton "norms" with a complete rendition of songs that include elements of trap, perreo, romanticism and a unique Mexican "banda-corrido".  
Featuring 12 original tracks starting with the unapologetic "Los Dioses" Intro delivering true boldness in this trap, Ozuna and Anuel cement their name in the Latin reggaeton world not just as Kings but now as "The Gods of Latin Music". A nostalgic take on the party days before the worldwide pandemic, "Antes" is a feel good song enticing its listeners to live it up and reminisce on clubbing days, while "Perreo" an exciting "club-hit" embodies the old school classic reggaeton sound. Adding to the versatility of this collaborative album, "Los Dioses" brings plenty of soft romantic lyrics strictly for the ladies with songs like "Nena Buena", "RD" and "100". Diving into an American street sound, "La Maria" a fiery and edgy track, captivates us with its hip-hop vibes and hard-hitting lyrics. And that's not all, as a finishing touch and switching it up with a refreshing take on regional Mexican music, the album ends with "Municiones", a fusion of sounds including trap, banda and corrido creating a monumental hit and a tribute to Mexican culture.  
Without a doubt, "Los Dioses" is a diversifying project shining light on two of the most iconic figures of the Latin industry who through their love for music are paying homage to their beginnings and share the journey behind what still drives them to continue exalting their music careers. With the legendary release of this joint album, Ozuna and Anuel have also taken on business entrepreneurial approaches marking themselves as well-rounded artists. "Los Dioses" is available on all digital platforms and you can watch the official music videos to the album on YouTube.