Ozuna Claims 7 Nominations At The American Latin Music Awards 2021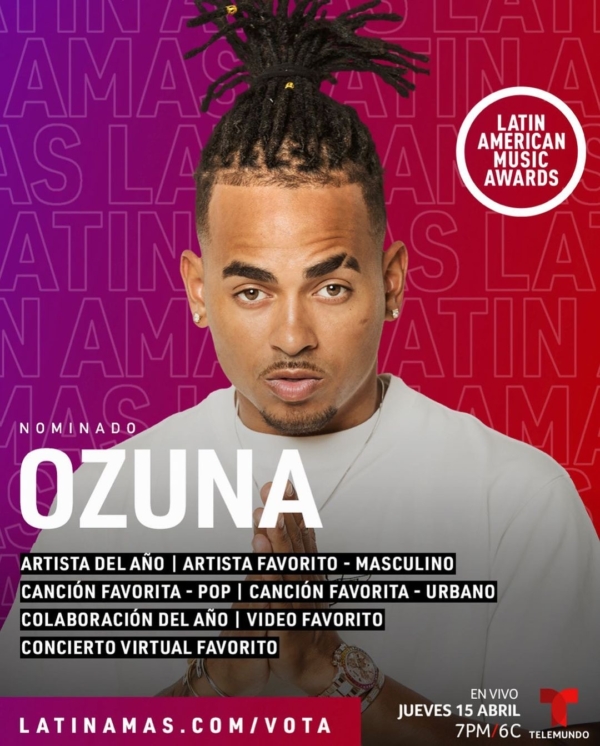 Ozuna is one of Latin Music's most prolific artists, he recently released a joint album with Anuel AA, closed out the show at "Premio Lo Nuestro" with a live performance from "Los Dioses", and he even made a special appearance on Tom and Jerry the movie. Because of artists like Ozuna, J Balvin, Karol G,  Latin music keeps on making headlines; this time, at the Latin American Music Awards. The Latin AMA's recognize latin artists based on key fan interactions with music that include, Streaming, sales, airplay,  and social activity tracked by Billboard.
Ozuna has 7 nominations to the awards show and is among the most nominated this year. Despite 2020 being a difficult year due to the ongoing pandemic, Latin Artists kept their momentum, as fans kept listening to music from home. A Brand new category was created due to this, "Best Virtual Concert" in which Ozuna was also recognized.
Be sure to vote: LatinAMAs.com/vota
Ozuna Nominations
Artists of the year
Artista Favorito – Masculino
Canción Favorita – Pop
Canción Favorita – Urbano
Collaboracion del ano
Video Favorito
Concierto Virtual Favorito
The 2021 Latin American Music Awards are set to take place April 15 live from the BB&T Center in Sunrise, Fla.