A constellation of Latin Music Stars Illuminated the Houston Skyline with High Energy Entertainment and Live Music at the Sold-Out BBVA Stadium on Saturday
The Uforia Latino Mix Live produced by Elite Media & Marketing (EMM) featured live sets by Ozuna, J Balvin, Rauw Alejandro, Jay Wheeler, CNCO, Cazzu, Chesca and DJ Cornetto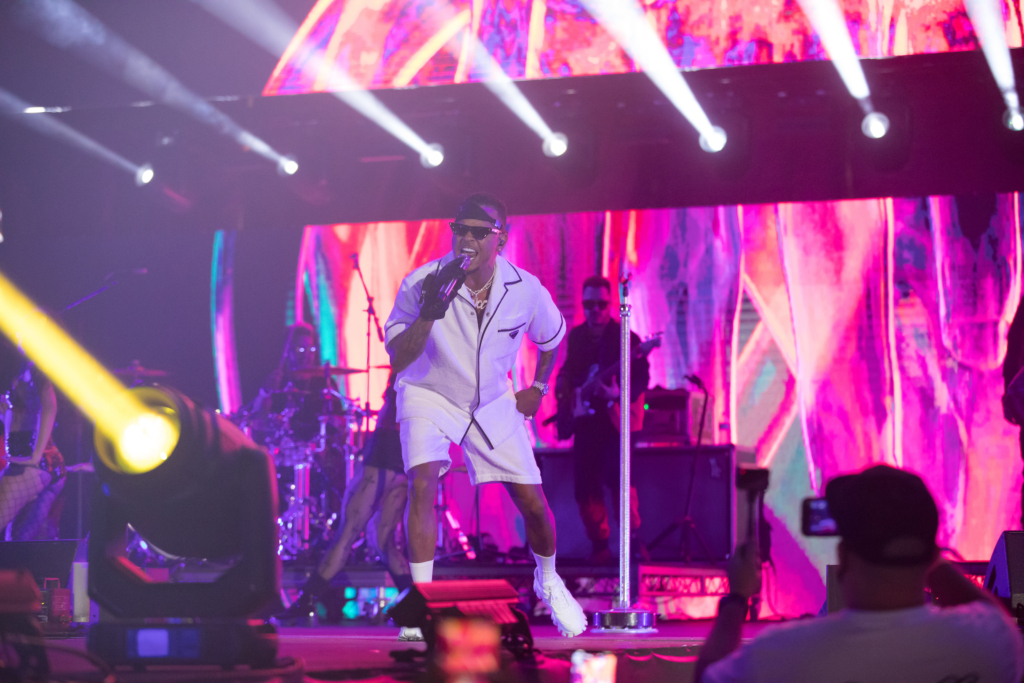 More than 22 thousand attendees converged at BBVA Stadium for the sold-out Uforia Latino Mix Live concert, produced by EMM, on the evening of Saturday, August 7 and enjoyed live performances by their favorite Latin Urban Music stars. Under the Houston skies, the high energy outdoor event featured non-stop action on a rotating stage  and it became the largest multi-act Latin Urban concert ever in the state of Texas. The music event featured live sets by J Balvin and Ozuna, the two global leaders of the YouTube Billion Views Club with 10 and 9 videos respectively with at least 1 billion views; attesting to the domination that Urban latin music enjoys worldwide. Locally, the attendees of the sold-out event were the "new general market," composed of bilingual and bicultural young Texan fans of the music genre.
https://www.instagram.com/p/CSVz3bss_5G/
Among the highlights, global music icon Ozuna brought his full musicians band to perform a plethora of his music hits like "Se Preparó," "La Modelo," "Taki-Taki"  and "Te Boté," among others. Commanding the stage at all times, the Puerto Rican singer, affectionately known as "El Negrito de Ojos Claros" paused his hour-and-a-half set to acknowledge the challenging year the world has endured, elicited support for freedom seeking Cubans and celebrated his Dominican-Puerto Rican roots. The crowd roared loudest when Ozuna acknowledged how the unconditional support and affection of his Mexican fans catapulted him to global stardom.
Colombian superstar J Balvin dazzled the stage with his staple high energy songs and a colorful and rhythmic all-male dance troupe. He surprised his fans with an old-school Salsa music rendition of "I Like it Like That" but it was the performance of his summer anthem "In Da Getto" that got thousands of the concert attendees  dancing en masse.
https://www.instagram.com/p/CSVf_JdMHtp/
Arriving in Houston as the undisputed leader on the Billboard charts this week Jay Wheeler also known as "La voz favorita (The Favorite Voice)" performed his radio hit "Viendo El Techo" and most recent single "Dos Tragos" to the delight of the audience that sang along with the Puerto Rican sensation his greatest hits including "La Curiosidad."
https://www.instagram.com/p/CSUbp0Snkhm/
Owning the stage with his rhythmic sound and explosive sensual dance moves, Puerto Rican heartthrob Rauw Alejandro raised the audience to their feet with his high energy songs ending with a pyrotechnics and fire display while performing his global hit "Todo De Tí".
The concert also featured sets by beloved boy band CNCO, leading Argentinian female urban singer Cazzu, boricua songstress Chesca and Guaracha's global ambassador DJ Cornetto.
https://www.instagram.com/p/CSVJ2AAMA1M/
The Uforia Latino Mix Live concert was produced by Elite Media & Marketing (EMM), one of the leading Latin music concert producers in the world featuring sold-out tours and multi-act music events by top Latin music artists. The award winning company is headquartered in Miami, FL and it produces more than 100 high profile music events every year in the US and Mexico's top arenas. The trailblazing company has revolutionized the industry by opening up new venues and markets in the US for Latin music while at the same time, smashing attendance and ticket sales records at iconic concert venues like The Forum in Los Angeles, FTX Arena (formerly American Airlines Arena) in Miami and Madison Square Garden in New York City. Among notable accolades, EMM won the coveted "Tour of the Year" Award at Univision's Premios Lo Nuestro in 2018 for producing Ozuna's Aura USA Tour.